COVID guidelines update February 28 2022
Following a relaxation in the rules surrounding COVID the DVSA has reacted accordingly and announced the following changes.
Instructors and pupils are not legally required to wear face coverings during lessons, theory tests and driving tests.  If you feel more comfortable continuing to wear a face covering that's absolutely fine and I'll continue to wear one also.  Other changes to COVID restrictions include driving tests no longer ending early and instructors being allowed to sit in on tests.
The car used for a driving test should be clean inside and properly ventilated.  I'll continue to take responsibility that my car is presented to the standards required.
For details of the safety procedures I will be using please click HERE
At the moment I am still offering FREE access to Driving Test Success' theory test products.  Please get in touch using the contact form or txt me on 07742 624571.
Neil
YOUR INDEPENDENCE STARTS HERE!
Take your first step to your all important driving licence and independence by booking your first driving lessons Cannock today! Our fantastic "Try Us and See" offer saves you £28.00!
Click HERE now for your FREE pass quicker resource!
When you buy through PayPal please contact us to ensure we have the lesson availability you require. Include all correct contact details to ensure no delay. For driving lessons Cannock and surrounding areas you can also contact us by telephone: 07742 624571 / 01543 423507 or text with your enquiry. Alternatively fill out the form to the right and we'll get back to you!
"Try Us and See" First Three Lessons £59.00

DRIVING LESSONS CANNOCK
Prodrive Driving School provides quality professional driving lessons in Cannock and surrounding areas at a sensible cost. Proprietor Neil Parkes is a patient, friendly and highly qualified Approved Driving Instructor (ADI Car).
Structured training is provided, all fully recorded in the customers own drivers record. A discount is offered on the first three lessons (all full 60 minutes) and save £30.00 with a block booking of ten lessons.
Furthermore, after passing your test motorway tuition can be provided as well as the popular pass plus course and as a result qualify for a valuable insurance discount. We can also supply gift vouchers for Christmas or birthdays, ideal for that person who appears to have everything except that all important driving licence.
CUSTOMER REVIEWS
Claire who passed her driving test in Cannock says:
"Neil is a very experienced, patient and calm driving instructor. I have hired Neil personally and passed first time. My two children, niece and an acquaintance have also used Neil's services and passed first time. I would not hesitate in recommending Neil."
Charisse who passed her driving test first time in Cannock says:
"Hi Neil. I would just like to say a massive thank you for teaching me how to drive and for all your patience. You are a brilliant driving instructor! Thank you so much!"
Click here to have a look at more of our customer reviews.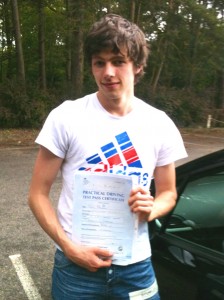 Jack Mucklow who passed his driving test in Cannock says: "I chose Prodrive Driving School through a friends recommendation and found learning to drive much easier than I expected. The teaching methods were thorough and therefore I was provided with useful driving techniques. I would recommend Prodrive to my friends because of their very patient and friendly service."
Tegan who passed her driving test in Cannock says: "Neil has been an excellent instructor from the first lesson. He has always made me feel comfortable and been patient. This has boosted my confidence greatly. Thank you!"
Sam Winkle who passed his driving test first time in Cannock says: "Learning to drive was very scary to begin with, but after a while it was very comfortable and enjoyable. You customised your teaching to suit the pupil and I found this very helpful." I would recommend Neil because his "teaching methods change with different people to suit them. This is really effective."

All our customers have free access to Driving Test Success, the UK's leading provider of award winning revision aids for learner drivers. As a result, our learners who use Driving Test Success are three times more likely to pass their theory test first time.